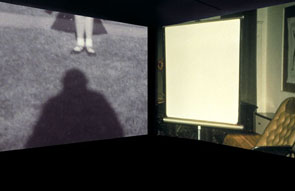 excerpts from installation at ICP, images 8.5 x 11 feet
Click here to read an interview with Lorie Novak
about Collected Visions @ ICP by Donna Cameron
in Manhattan Arts International.
See also Collected Visions on the web

This installation uses family snapshots from an archive of photos collected from over 350 people to question how photographs shape our memories. COLLECTED VISIONS is computer-driven and utilizes high-resolution digital projectors and a new high-quality streaming media system created specifically for the project by Jonathan Meyer. Two floor-to-ceiling 17-minute sequences with dissolving images are simultaneously projected. The installation draws from the over 2,500 images that Novak has collected for Collected Visions on the Web which launched in 1996. While the web project functions as a neutral space that collects images and stories, the installation uses photographs selected by Novak to create an extended essay that explores the emotional, psychological, and cultural roles of snapshots.

The images, which depict home life, familial relationships, celebrations, rituals, vacations, children at play, awkward adolescence and more, are juxtaposed with one another and combined with overlapping spoken word and music in a dreamlike environment of dissolving projected images. The experience conveys the psychological, emotional, and often disturbing nature of photographs and explores their contemporary role in our everyday lives.

The music, composed by Elizabeth Brown for viola, flute, shakuhachi, piano, and toy accordions, incorporates themes and voices that relate to the photographs. References to known melodies resonate much like the familiar themes in the projected images, and musical passages repeat and overlap, echoing the experience of the dissolving projections. Spoken words are drawn from interviews and discussions that Novak and Brown have been conducting since 1996.

Meyer's editing tool offered Novak unprecedented levels of control, since all channels of image and sound are edited in a single integrated environment, on a single time line. Real-time effects are generated live, as the participant watches, rather than being pre-computed and stored on disk beforehand. This translated into a much more flexible system. Novak is taking advantage of this functionality by creating new sequences for the installation with images gathered at collection days during the exhibitions.

COLLECTED VISIONS debuted at The International Center of Photography New York City, November 3 - December 31, 2000 during the inaugural exhibition of the renovated midtown space. It traveled to the Center for Creative Photography in Tucson, Arizona, February - April, 2001 (along with Lorie Novak Photographs 1983-2000), and the Zilkha Gallery at Wesleyan University, September - October 2001. A video adaption was shown at the MARCO Museum in Monterrey, Mexico in July 2001.