Biking In Minneapolis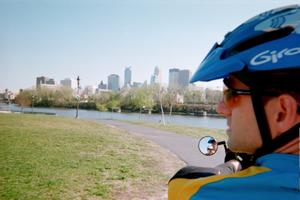 Because I ride in the back seat of a tandem recumbent bike, I can relax and take in the view, write poetry, day dream, etc. The day I took this photo, I was using a free camera from the internet that would also be processed by a internet photo company. The setting is a urban park across the river from downtown Minneapolis.

After a long winter, it's such a loving kick to get outside with my sweetie and ride around the river and lakes together. I arranged the composition so that my image is in the bike's mirror (look close).


submitted by Rene Joseph
Minneapolis, MN
March 2001

| Next Essay | On Photography Index | Museum Entrance |