Roger Towne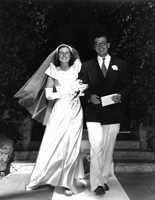 the wedding photo is of my mother, jackie and my father, roger taken in 1948 in california.
momma was just 18, daddy 3 years older...
they had a brood of 5 kids, i'm the oldest..
somewhere along the line we were more than he had really wanted and he did love to party....
eventually, that killed him.
my sweet crazy daddy died of AIDS in 1988, in the philippines, on the island with the boys and animals that he had lived with for 10 years.
we miss him.
and we know he's ok.